ABOUT PERU BIRDING NEOTROPICS
PERU
| | |
| --- | --- |
| Area (SqMi): | 496,226 |
| # Species: | 1944 |
| # Excl Vagrants: | 1897 |
| # Endemics: | 126 |
| # Near Endemics: | 213 |
| Species/1000 SqMi: | 3.8 |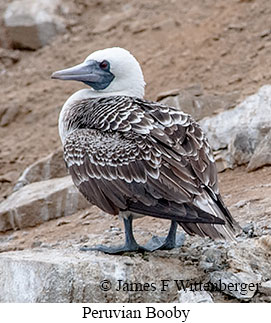 The following is a summary of the major bioregions in Peru.
HUMBOLDT CURRENT AND PACIFIC OCEAN
The Humboldt Current off the Pacific coast of Peru is a cold water current flowing north from the Antarctic Ocean. This cold water extends north to approximately the Piura and Tumbes Departments of NW Peru, where it diverts westward toward the Galapagos Islands. Northward from Piura are warmer subtropical ocean waters where seabirds such as Waved Albatross, Galapagos Petrel, Nazca Booby, and Swallow-tailed Gull can be found offshore.
The upwelling waters of the Humboldt Current create a tremendous abundance of marine life that provides ample food for large numbers of seabirds. Many of these species nest on small islands along the coast. Because the Continental Shelf is not far off the Peruvian coast, pelagic birding is possible not far offshore.
COASTAL REGION
The coastal lowlands of Peru can be divided into the Equatorial Pacific Coast and the Peruvian Desert. The northern part of the coast is part of the Tumbes Endemic Area that extends into southwestern Ecuador. Extreme NW Peru from Piura into Ecuador is part of this area. Vegetation consists of dry forests and arid scrub, with evergreen forests in higher elevation foothills. Some 54 range-restricted birds are found in the Tumbesian Endemic Area, including a variety of endemics found only in Peru such as White-winged Guan, Tumbes Tyrant, Rufous Flycatcher, and Peruvian Plantcutter. The Chaparri Reserve north of Chiclayo borders this area and is home to the highly endangered Spectacled Bear as well as other rare mammals.
From Piura south the coast of Peru is part of the extreme arid Peruvian Desert, which extends into Chile as the Atacama Desert. These are the driest deserts in the world and few birds live there aside from some seabirds such as Markham's Storm-Petrel and Peruvian Tern that nest there. Even so, the desert in crossed by some 50 fertile valleys which are home to a number of endemic birds found only there. These include Peruvian Sheartail, Chilean Woodstar, Dark-faced Ground-Tyrant, Chilean Swallow, and Slender-billed Finch.
The coastal area south of Lima is an excellent place to see birds such as Band-tailed Gull and Inca Tern as well as a variety of wetland birds around the Villa Marshes.
ANDES MOUNTAINS
The Andes Mountains provide diverse habitats for numerous specialty birds and endemic species. The western and eastern slopes have very different bird life, as the high mountains provide a barrier that prevents interbreeding. Also the latitudinal gradient between northern Peru and the Bolivia border lead to additional changes in species composition.
The western slope of the Andes toward the Ecuador border is covered by semi-humid forest. While species diversity is low, the complex topography of the mountains and valleys have produced some endemism. Several notable endemics and near endemics are found there, including Russet-bellied Spinetail, Unicolored Tapaculo, Piura Chat-Tyrant, and Great Inca-Finch.
The upper Maranon River near Jaen along with part of the dry Huallaga farther east near Tarapoto create a network of valleys in the central Andes that form part of the important Maranon Endemic Area. These Inter-Andean valleys receive limited rainfall because of the rain shadow effect of the higher cordillera to the east.
They are covered by dry deciduous forest and are home to 22 range-restricted species of endemics and near endemics whose ranges extend barely into southern Ecuador, including Maranon Pigeon, Yellow-faced Parrotlet, Purple-backed Sunbeam, Marvelous Spatuletail, Maranon and Great Spinetails, Chestnut-backed Thornbird, Maranon Slaty-Antshrike, Maranon Crescent-Chest, Maranon Thrush, Buff-bridled Inca-Finch, and Little Inca-Finch.
Higher elevations of the central Andes are covered by puna grasslands. These grasslands extend from the Andes of southern Andes all the way to Bolivia. A number of Peruvian endemics are found in the northern extent of these highlands south to about Junin. These include Junin Grebe, Black-breasted Hillstar, Dark-winged Miner, the extremely rare and sought-after White-winged Cinclodes, Ancash Tapaculo, White-cheeked Cotinga, Plain-tailed Warbling-Finch, and Black-spectacled Brush-Finch. Farther south the altiplano consists of puna grasslands intermixed with scrub, wetlands, and Polylepis woodlands. Endemics and near endemics found in this more southern section of the central highlands include Rusty-fronted, Puna, and Scribble-tailed Canasteros, Gray-bellied Shrike-Tyrant, the rare Hellmayr's Pipit, Black-hooded and White-throated Sierra-Finches, the very rare and highly localized Rufous-breasted Warbling-Finch, Puna Yellow-Finch, and Yellow-winged Blackbird.
EASTERN ANDES
The eastern slope of the Andes encompasses extremely humid forests upslope from the Amazon basin. This region of Peru is often referred to as the Yungas Region, an area of high rainfall, deep valleys filled with palm trees and subtropical forest and higher valleys covered with cloud forest. The northern extent of this region from the Ecuadorian border to the Maranon River is the most equatorial and features a variety of Peruvian endemics and near endemics including Black-billed Mountain-Toucan, Spectacled Prickletail, Flammulated Treehunter, Peruvian Antpitta, Slate-crowned Antpitta, Chusquea Tapaculo, Rufous-browed Tyrannulet, Rufous-breasted Flycatcher, Orange-banded Flycatcher, Chestnut-bellied Thrush, Black-headed Hemispingus, Vermilion Tanager, and Masked Mountain-Tanager.
The central portion of the east slope from the Maranon River to about Junin feature a variety of Peruvian endemics that do not extend into Ecuador. These include Cloud-forest Screech-Owl, Long-whiskered Owlet, Yellow-browed Toucanet, Scarlet-banded Barbet, Speckle-chested Piculet, Russet-mantled Softail, Creamy-bellied and Ash-throated Antwrens, Pale-billed, Rusty-tinged, Bay, Chestnut, and Ochre-fronted Antpittas, Large-footed, Neblina, and Tschudi's Tapaculos, Unstreaked Tit-Tyrant, Johnson's Tody-Tyrant, Bay-vented Cotinga, Peruvian Wren, Rufous-browed Hemispingus, Brown-flanked Tanager, Pardusco, and Golden-backed Mountain-Tanager.
Farther south the Yungas region becomes more subtropical and wetter. Indeed, the second wettest year recorded on Earth came from this region. The area from about Machu Picchu south into Bolivia features a variety of endemics and near endemics whose ranges extend into neighboring Bolivia, including Black Tinamou, Hooded Mountain-Toucan, Marcapata Spinetail, Streak-fronted Thornbird, Upland Antshrike, Yellow-rumped Antwren, White-throated Antpitta, Bolivian and Diademed Tapaculos, Sclater's Tyrannulet, Buff-banded Tyrannulet, Hazel-fronted Pygmy-Tyrant, Ochre-breasted Tody-Flycatcher, Scimitar-winged Piha, Yungas Manakin, Orange-browed and Parodi's Hemispingus, and Two-banded Warbler.
AMAZON BASIN
The Amazon River forms at the confluence of the Maranon and Ucayali Rivers in eastern Peru and is joined not far downstream by the Napo River from eastern Ecuador. The vast lowlands of the Amazon Basin covers much of eastern Peru and is home to a great diversity of bird species. The Amazon River acts as a barrier where many species ranges end, resulting in species composition north of the Amazon to be somewhat different than that south of the river.
The lowlands north of the Amazon are characterized by white-sand and varzea (flooded) forests. Birds whose ranges do not extend south of the river include Brown and White-chinned Jacamars, Brown-backed, Cherrie's, Ancient, and Ash-winged Antwrens, Black-chinned, Black-headed, Allpahuayo, Zimmer's, and White-masked Antbirds, Spotted and White-lored Antpittas, Golden-winged Tody-Flycatcher, Orange-eyed Flycatcher, Cinnamon-crested Spadebill, Saffron-crested Tyrant-Manakin, Collared Gnatwren, and Ecuadorian Cacique.
The region south of the Amazon including the Ucayali watershed and the lowland forest east of Junin has fewer regional endemics than north of the Amazon. Species whose ranges do not extend north of the Amazon include Blue-cheeked Jacamar, Rusty-backed Spinetail, Saturnine Antshrike, Amazonian Black-Tyrant, Three-striped Flycatcher, Purple-breasted Cotinga, Gray-chested Greenlet, and Black-bellied, Dotted, and Sira Tanagers. Farther east in the Madre de Dios Department, the lowlands have a marked dry season, unlike other regions in the Peruvian Amazon. There is also a large tract of bamboo forest and some Pampas grasslands. As a result, the Madre de Dios features some additional near endemics and species with restricted ranges in Peru including Fulvous-chinned Nunlet, Scarlet-hooded Barbet, Fine-barred Piculet, White Woodpecker, Peruvian Recurvebill, Bamboo Antshrike, Ihering's Antwren, Striated, Manu, and Goeldi's Antbirds, Rufous-fronted Antthrush, Slaty Gnateater, Long-crested Pygmy-Tyrant, White-cheeked and Black-backed Tody-Tyrants, Hudson's Black-Tyrant, Gray Monjita, Black-faced Cotinga, Flame-crowned Manakin, Purplish Jay, Sayaca Tanager, Black-masked Finch, Selva Cacique, and Chopi Blackbird.
WHY GO BIRDING IN PERU
Peru is a less visited but outstanding birding destination with over 1880 species recorded in the country. Sandwiched between Ecuador, Brazil, Bolivia, Chile, and the Pacific Ocean, Peru offers a great diversity of birding habitats, including everything from the Humboldt Current off the Pacific Coast to several endemic bioregions, the high Andes, and lowland Amazon rainforest. The country also offers spectacular scenary and, of course, the Incan ruins at Machu Picchu outside Cusco. For those wanting to experience some of the best birding in South America, are tolerant of sometimes basic accommodations, and are physically fit, Peru is hard to beat as a birding destination in the Americas.
OTHER COUNTRIES
IN THE NEOTROPICS
Chile
El Salvador
French Guiana
Guatemala
Honduras
Mexico
Nicaragua
Paraguay
Suriname
Trinidad/Tobago
Uruguay
Venezuela
BIRDING LOCALES