ABOUT PANAMA BIRDING NEOTROPICS
PANAMA
| | |
| --- | --- |
| Area (SqMi): | 29,762 |
| # Species: | 956 |
| # Excl Vagrants: | 854 |
| # Endemics: | 7 |
| # Near Endemics: | 103 |
| Species/1000 SqMi: | 28.7 |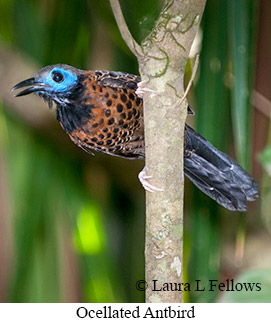 The great diversity of birding opportunities along with the Panama Canal make Panama a great place to visit even for seasoned birders who have already toured other Central American countries. The preferred places to visit during typical birding tours to Panama are the Canal Zone and the western highlands of Chiriqui province. Some birding tours also visit San Blas and the Darien of eastern Panama, but these are more rugged tours because facilities are quite basic at best and substantial hiking is sometimes required to see the most important species.
With over 960 bird species recorded, Panama has the highest diversity of birds in all of Central America. Many South American species barely extend into Panama, and the same is true for many Central American species. This is evidenced by the 9 endemic species present in Panama, of which 2 are found only in the Chiriqui Highlands of western Panama and 6 are found only in Darien Province east of the canal toward the Columbia border.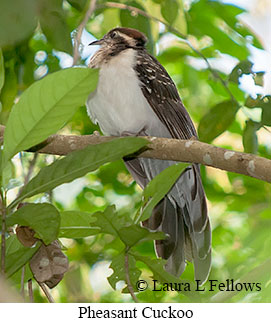 Similarly, all "near endemics" are found either in the Chiriqui Highlands and southeastern Costa Rica or in the Darien and northwestern Columbia. The reason for this circumstance is both historical and geographical. Historically, Panama was once below sea level and the ocean waters formed a natural barrier between South and Central America. Geographically, the truly tropical rainforests of South America do not extend much beyond the Darien, especially in recent times of agricultural activity, while the highlands of western Panama form a natural barrier preventing many species from extending beyond Costa Rica into Panama. The result is a truly transitional avifauna, a unique mix of Central and South American species that awaits exploration by the avid birder.
A nice variety of South American species not found in adjoining Costa Rica can readily be found in Panama. Parks and gardens in the Canal Zone offer excellent birding, while lowland rainforest along Pipeline Road paralleling the canal are more readily accessible than anywhere else in Central America. A number of species are mainly found on either the Pacific or Caribbean side of the Canal Zone, so its important to visit both sides during a birding tour to the area.
The western highlands of Chiriqui Province, which extend into southern Costa Rica, offer a variety of near endemic and specialty birds. Fortuna Road, which crosses from the Pacific to Caribbean side, is especially good as it covers an altitudinal transect from lowlands to middle elevation sites. The highlands around Volcan, Boquete, and Guadalupe is the best place to find the near endemics not present in the Canal Zone.
WHY GO BIRDING IN PANAMA
Panama is a geographical dividing line where the ranges of many Central American birds end and the ranges of many South American birds begin. Nearly 200 species of birds found in Panama are not present in Costa Rica. The ranges of additional species extend only into southern Costa Rica and are missed on typical Costa Rica birding tours. The combination of birding the Canal Zone and the western highlands of Chirique Province can result in over 300 species on a single tour. In addition, the more remote regions of San Blas and Darien in eastern Panama, though more daunting to visit, offer opportunities to see endemics not found anywhere else in the world other than remote northwestern Colombia. For these reasons Panama has become a popular destination for birding tours.
OTHER COUNTRIES
IN THE NEOTROPICS
Chile
El Salvador
French Guiana
Guatemala
Honduras
Mexico
Nicaragua
Paraguay
Suriname
Trinidad/Tobago
Uruguay
Venezuela
BIRDING LOCALES