ABOUT THAILAND BIRDING ASIA
THAILAND
| | |
| --- | --- |
| # Species: | 1038 |
| # Excl Vagrants: | 950 |
| # Endemics: | 3 |
| # Near Endemics: | 8 |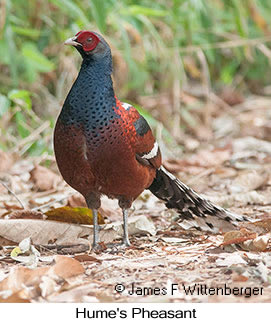 Thailand is a superb birding destination with varied environments that include mountainous regions, delineated on the map by narrow blue lines within Thailand, coastal areas, and rainforest. Although much of central Thailand is devoted to agriculture, many parts of the country remain excellent as birding destinations. Especially noteworthy are the mountainous regions in the north and the forests in the southern peninsula. Then there is the wintering population of Spoon-billed Sandpiper, one of the most critically endangered species on Earth. Over 1000 species of birds have been recorded in Thailand. Only two true endemics are found there, White-eyed River Martin and Deignan's Babbler. The former is probably extinct as it hasn't been seen anywhere since 1980. The latter is known only from Chiang Dao in the north, is now considered a subspecies of Rufous-fronted Babbler, and has apparently been extirpated. Thailand does feature 6 near endemics and numerous range-restricted specialties of southeast Asia, making it a country well worth birding. Below is a description of the major birding regions in Thailand, separated by climatic zones and to some extent by biogeographical regions. For more information see Nick Upton's website.
Northern Thailand is the first place most birders visit in Thailand. The usual arrival point is Chiang Mai. Numerous birding destinations are easily reached from there. Close to the city is Mae Hia Agricultural College, a good place for a half day or even full day birding excursion nearby. Also within easy reach of the city is Doi Suthep-Pui National Park, which offers an altitudinal transect through some good forest. The premier birding destination is Doi Inthanon National Park 80km southwest of Chiang Mai. Farther north are Doi Chiang Dao National Park, Doi Ang Kang, and Doi Lang, each with their own specialty birds, many of which representing the southern-most range of more northern species from China. These latter sites are espcially worthwhile during winter months from November-February when Palearctic migrants, especially several species of northern thrushes, are typically present.
The most notable birding destination of northeast Thailand is Khao Yai National Park.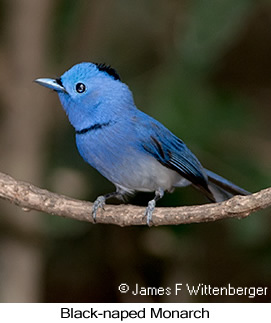 This park is not a great distance from Bangkok and is an especially good place to see hornbills. Birding there is excellent and is worth spending a couple days. The park is notable as the best place to find Coral-billed Ground-Cuckoo. Farther north is Nam Nao National Park, less visited but very good for woodpeckers.
Western Thailand features the largest remaining forest in Southeast Asia. Mae Wong National Park in the north borders on Myanmar and features several species difficult to see elsewhere in Thailand, most notably the rare Rufous-necked Hornbill. Another notable species there is Burmese Yuhina, which is mainly in quite inacessible sites at high elevation but is occasionally seen elsewhere in the park. Another notable park in the west is Kaeng Krachan National Park, largest in Thailand and also bordering on Myanmar. This park features excellent forest habitat and is the premier destination for forest birding in the country.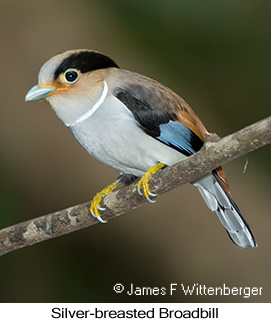 Central Thailand is devoted heavily to agriculture but water birds are found at many sites. The top destination has to be the Laem Pak Bia/Pak Thale area where wintering Spoon-billed Sandpipers can be reliably seen during the Palearctic winter. This site is good as a day trip or overnight visit and features numerous shorebirds, herons, gulls, terns, and other birds of interest.
Southeast Thailand is rarely visited by birders due to its inaccessibility in relation to other prime birding areas. This is one of the wettest areas in Thailand, and the avifauna is similar to neighboring Cambodia. Good forest still remains in the area.
Finally, south Thailand is worth a trip on its own, as there are so many excellent birding sites. The region features many species not found farther north, including a good variety of Malaysian species. The extreme south is considered unsafe for travel due to occasional insurgent activity near the border with Malaysia.
Some birders do visit there without incident, and the birding is fantastic. Khao Nor Chuchi was previously the only place in Thailand to see the critically endangered and highly prized Gurney's Pitta. However, the species has not been seen there since 2013 and may be extirpated in Thailand. The park is considered the most difficult place for birding in Thailand due to the heavy forest undergrowth and poor maintenance of the trail system. Other notable destinations include the mangroves around Phang Nga, Krung Ching Waterfall area within Khao Luang National Park, Sri Phang Nga National Park, and the Similan Islands where one can find Nicobar Pigeon and Pied Imperial-Pigeon.
OTHER COUNTRIES
IN ASIA
Cambodia
China§§
Japan
Laos
Malaysia§§§§
Saudi Arabia
Taiwan
BIRDING LOCALES
Khlong Saeng Wildlife Sanctuary
§ Includes Sarawak, Sabah, & Kalimantan
§§ Excludes Taiwan
§§§ Includes Wallacea but excludes Kalimantan (Borneo) and West Papua New Guinea & nearby islands
§§§§ Excludes Sarawak and Sabah on Borneo