ABOUT KENYA BIRDING AFRICA
KENYA
| | |
| --- | --- |
| Area (SqMi): | 224,962 |
| # Species: | 1119 |
| # Excl Vagrants: | 1063 |
| # Endemics: | 7 |
| # Near Endemics: | 32 |
| Species/1000 SqMi: | 4.7 |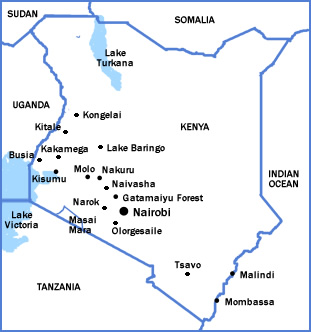 Kenya is best known as a safari destination for viewing big mammals, and for many people that is the purpose of going there. However, birding is also spectacular. Over 1100 species of birds have been recorded in Kenya, and it's possible to see over 600 species on a 3-week tour and 800 species on a 4-week tour. The varied geography of Kenya is the reason for such species diversity, and a basic knowledge of its geography is helpful in understanding the birding opportunities.
Kenya can be conveniently divided into five major geographical regions: the Highlands, the Rift Valley, the Western Plateau, the Coastal Region, and the Northern Plains.
The Kenya Highlands consists of two major divisions on either side of the Rift Valley. This region has more plentiful rainfall and cooler temperatures than elsewhere, and much of the major population centers are located there. Nairobi is located on the eastern side of the Rift Valley, as is Mt. Kenya. The Mau Forest, largest in Kenya, is located in the highlands on the western side of the Rift Valley. The highlands are especially subjected to agricultural activity and human activity that greatly threatens forests and a number of bird species. Some birding sites in the eastern highlands are Nairobi National Park, Mount Kenya, and the Aberdares Mountains, which includes the Gatamaiyo Forest Reserve. Birding sites on the western side include the Molo Grasslands, the Mau Narok region to the south, and the Kongelai Escarpment to the northwest of Kitale.
The Rift Valley in Kenya and Tanzania encompasses the eastern half of the larger African Rift Valley. The valley extends southward from Lake Turkana of northern Kenya into northern Tanzania. This is where numerous freshwater and alkaline lakes are found. The alkaline lakes attract large numbers of flamingos, especially at Lake Nakuru but also at other soda lakes as well. The major freshwater lakes are Lake Naivasha and Lake Baringo, which is actually slightly alkaline. These attract different aquatic birds than those found around the soda lakes. Much of the surrounding habitat is bushland and scrub. The Rift Valley is also where the Serengeti Plains of Tanzania is located along with its northern extension into Kenya, Masai Mara. These plains are home to vast herds of migratory Wildebeest, zebras, giraffes, many species of antelope, big cats such as lions, leopards, and cheetahs, hyenas, and other mammals. They're also home to many species of birds. The savanna includes grassland but also bush, open woodland, scrub, rocky hillsides, ridges, and valleys, and this diversity of habitats results in a great diversity of birds. For instance, over 500 species have been recorded within the boundaries of Masai Mara alone.
The Western Plateau is the region around Lake Victoria and lies between the eastern and western branches of the African Rift. This region is marked by numerous faults and escarpments with valleys in between. The last remaining rainforest in Kenya is located there, especially around Kakamega. Some 80 species of birds in the Kakamega Forest are found nowhere else in the country. An altitudinal gradient coming down the Kongelai Escarpment onto the Western Plateau adds to the diversity of bird species. Habitat such as Papyrus swamps and other lakeshore vegetation around Lake Victoria is home to its own set of specialty birds, while Lake Victoria itself attracts numerous aquatic species. The Busia Grassland near the northeast shore of Lake Victoria is home to several localized bird species and is threatened by substantial agricultural activity.
The Coastal Region covers the entire eastern half of Kenya. This low-lying region is hot and largely featureless. It's characterized by several river floodplains and low plateaus that gradually rise in elevation. Amboseli and Tsavo National Parks near the border with Tanzania are found in this region. South of Mombassa is Shimba Hills National Park, notable for Sable and Roan Antelope as well as several range-restricted bird species not found elsewhere in the country. The southern coast is rocky and lined continuously with coral reefs. The coastal area becomes increasingly drier as one goes north toward Somalia.
The Northern Plains region stretches from Uganda to Somalia and is quite arid. It includes Lake Turkana, semi-desert savanna west of Lake Turkana, and the Chalbi Desert to the east. The region is only lightly populated. The border region is currently an area of unrest due to raiding by Somalis across the border and military activity by the Kenyan army against Somali bandits. This unrest does not pose any risk of travelers farther south. Samburu Reserve is located in the southern extent of this region, quite far from the Somali border. This reserve is home to the Samburu people and features birds of semi-arid savanna and bush as well as some interesting mammals such as Beisa Oryx, Reticulated Giraffe, and Grevy's Zebra.
ABOUT KENYA BIRD PHOTOGRAPHY
Most people go on safari in Kenya to photograph big game animals. Opportunities to photograph mammals abound on the open savanna of all the game parks, especially Masai Mara during the wildebeest migration during July-August. In addition, numerous opportunities arise to photograph birds. The most obvious are birds of the open savanna such as Common Ostrich, bustards, and Secretary-bird and the astounding concentrations of flamingos on soda lakes, especially Lake Nakuru. Less obvious are the lucky chances to photograph Bateleur, African Fish-Eagle, and the many other raptors of open country. The gaudy displays of whydahs and widowbirds during mating season offer spectacular photo opportunities. Many bird species such as fiscals and weavers of open country are readily photographed. With patience it's also possible to photograph birds of the Kakamega Forest and other forested habitats. It's actually quite surprising how many opportunities arise to photograph birds in addition to mammals while on safari.
WHEN TO VISIT KENYA
The best time to view the amazing wildebeest migration and especially the spectacle of migratory herds crossing the Mara River is July and early August. Even then, there are no guarantees of seeing a river crossing, since they don't occur every day and it sometimes takes waiting for many hours to see it occur. Unfortunately, July and August are dry season when bird activity is low and the majority of species are no longer in breeding plumage. In some years the wildebeest herds remain in Kenya until September or October, depending on the rains, and in those years it's possible to see a crossing as they are moving south again to the Serengeti during those months. The timing of the migration varies every year and has been especially unpredictable in recent years. In some years the wildebeest herds remain in Kenya until September or October, depending on the rains, and in those years it's possible to see a crossing as they are moving south again to the Serengeti during those months. The migration varies every year and has been especially unpredictable in recent years.
An excellent time to go birding in Kenya is during the short rains of November and early December when most species are in breeding plumage. That's also when the display behavior of whydahs and other species take place. During that time many Palearctic migrants are present as well. By January mating activity has tapered off and birds are changing into non-breeding plumage. A second time to visit is during the long rains of April-May. During those months some parts of the game reserves become impassable due to the heavy mud, grass and other vegetation becomes taller so mammals are often less easy to see, and birding in the rain isn't all that pleasant at times. Shortly thereafter in June is often a better time for birding because many species are still in breeding plumage, the plains are drying out, and the weather is generally good. In some years migrating wildebeest arrive in late June instead of July, and when that happens it's an added bonus for a June birding tour.
OTHER COUNTRIES
IN AFRICA
BIRDING LOCALES