HIGHLANDS/MACHU PICCHU/MANU ROAD/TAMBOPATA TOUR
Tour Overview PERU
BIRDING TOUR
ANY TIME*
Duration:
19 days, 18 nights
Group Size:
2-6
Anytime Price:
$6300
Group Price:
$5900
Single Suppl:
$600
Est #Species:
500-550
Pace:
Moderate
Difficulty:
Moderate
* This tour is available for any dates of your choosing provided guide services and accommodations are available.
Our Peru Highlands, Machu Picchu, Manu Road, Tambopata Tour features the central highlands of Peru including famed Machu Picchu, bird-rich Manu Road, the latter an altitudinal transect through the eastern Andes of central Peru, and the Amazon headwaters within the Tambopata Reserve of southeastern Peru. The tour is designed for those who only have two weeks to spend in Peru. The birding potential of this tour is superb with well over 400 species likely. The best time to take this tour is July-January. Accommodations range from quite basic facilities to moderately-priced hotels with reasonable but not luxurious facilities and typical eco-lodges. Participants should be willing to accept moderate sacrifice of creature comforts in exchange for fantastic birding.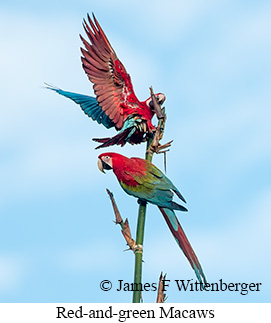 The tour begins with a morning of birding at Villa Marshes and Pucusana south of Lima for some coastal specialties followed by an afternoon flight to Cusco, situated at 10,000-ft altitude in the central Peruvian Andes. Next morning is a transfer into the highlands to a new birding site along the Mollepata Road and nearby Soraypampa, an area featuring several localized endemic species. The following two days are devoted to birding cloud forest, the Carrizales area, and the high elevation pass at Abra Malaga. A morning train to Machu Picchu starts the next day, devoted to a visit of the ancient Inca ruins and nearby Agua Calientes, before taking a train back to Cusco for the night. From there the tour is devoted to birding Manu Road, starting with a stop at the high elevation Huacarpay Lakes area followed by two days in the mid-elevation site at San Pedro, a lower subtropical site at Villa Carmen Biological Station, and finally a high elevation site at Wayqecha Biological station before returning to Cusco. Following a night there, the tour continues with a morning flight to Puerto Maldonado, a boat transfer to Lake Sandoval, and afternoon birding there. While at Lake Sandoval, birding will be on trails and along waterways around the lodge plus a visit to a unique parrot tree-lick. After two nights at Lake Sandoval, the tour continues with a transfer to the bird-rich area around Explorer's Inn following by a night at Collpas Tambopata Lodge and an early morning visit to the world's largest macaw clay lick at Chuncho. The tour ends with a transfer back to Puerto Maldonado and an early evening flight to Lima.
TOUR NOTES
Air fare within Peru included in the price.
ADDITIONAL INFO
(Not on Menu Above)
BIRDING LOCALES