GRAND COSTA RICA TOUR
Tour Accommodations COSTA RICA
BIRDING TOUR
ANY TIME*
Duration:
16 days, 15 nights
Group Size:
2-8
Anytime Price:
$5650
Group Price:
$4995
Single Suppl:
$650
Est #Species:
450-500
Pace:
Moderate
Difficulty:
Moderate
* This tour is available for any dates of your choosing provided guide services and accommodations are available.
HOTEL AEROPUERTO
Hotel Aeropuerto is a comfortable hotel located 5 km from the international airport outside San Jose in Alajuela. The acclaimed hotel restaurant offers a wonderful breakfast buffet and a la carte lunches and dinners. Its 24 single and double rooms feature queen-size beds, air conditioning, private bath with hot water tub and shower, cable TV, telephone, and coffee maker.
HACIENDA LA ENSENADA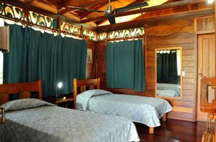 Hacienda La Ensenada is a located in a national wildlife refuge in northwest Costa Rica. The hacienda is in cattle country, where the habitat is a combination of pasture lands, dry woodlands, and coastal mangroves. The outdoor restaurant offers mainly regional cuisine. White-throated Magpie-Jays come into the restaurant looking for scraps of food and often perch on the tables. Accommodations are in sparsely appointed but spacious rooms typically with two twin beds, private bath, and hot water showers.
is an eco-friendly lodge located outside Bijagua in northern Costa Rica. Some birding is available in the gardens and along trails up a forested ridge behind the lodge. The lodge is owned by a Frenchman and the restaurant cuisine reflects the owner. Gourmet meals are served in a restaurant that offers superb views of the gardens below. A bar is situated on the terrace. Free wi-fi is available in the common area. Rooms have views of two volcanos, rainforest, and gardens below. Single and double rooms feature king or queen beds, nightstands, wash basin, hot shower, and toilet.
DE LUCIA INN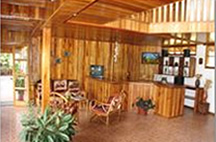 De Lucia Inn is a charming, cozy hotel located conveniently in the heart of Monteverde, Costa Rica. The hotel is a small, family-run business that prides itself on personal service. The De Lucia Restaurant across the street has a reputation for providing good food in an open air setting. The restaurant serves both local and international gourmet cuisine including vegetarian dishes. There are also a variety of other restaurants within easy walking distance of the hotel.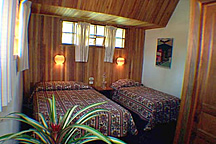 The 12 rooms in the hotel feature natural wood-finish paneling that provides a warm, rustic atmosphere. The rooms are updated and comfortable. Each room features queen and single beds and private bath with hot-water showers. The balcony outside each room looks out over the forested grounds and offers a vantage point for viewing birds on the property.
ARENAL OBSERVATORY LODGE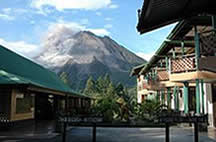 Arenal Observatory Lodge is an upscale eco-lodge situated within Arenal National Park. The lodge gardens, grounds, and private bird sanctuary offer excellent birding on the premises. The terrace and some rooms offer grand views of the Arenal Volcano. The restaurant offers excellent Costa Rican and international cuisine. A full bar offers a nice variety of beers, wines, and mixed drinks. Spa services are available upon request. Standard rooms are very comfortable and feature two double beds, private bath, and a room safe.
LA QUINTA COUNTRY INN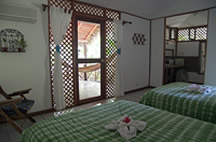 La Quinta Country Inn is a comfortable eco-lodge situated down a side road not far from La Selva Field Station. The 10-acre site is a re-forested agriultural site that now has some secondary forest as well as gardens. A network of easy trails provide access to all parts of the property. The open air restaurant features fresh fruits and vegetables grown on the property, an excellent salad bar, and both international and Costa Rican cuisine. Rooms are in separate bungalows and feature double and twin beds, ceiling fan, air conditioning, and private bath with hot water showers. An outside porch overlooking the gardens provides a place to relax.
SAVEGRE MOUNTAIN HOTEL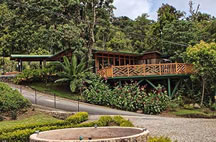 Savegre Mountain Hotel is located in San Gerardo de Dota, a small community at the bottom of a steep-walled mountain valley in the Talamanca Mountains. The private reserve is best place to see Resplendent Quetzal as well as other specialty birds of the highlands. Meals are served buffet style. The food is simply superb, with a large selection of salads from the salad bar, main dishes, and delicious desserts. A bar and lounge with large windows is a comfortable place to relax at the end of the day. All rooms include comfortable double beds, private bath with hot water, and heater. Wi-fi is available in the bar and dining room areas.
BOSQUE DEL RIO TIGRE LODGE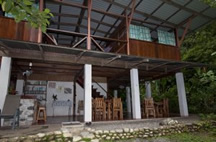 Bosque del Rio Tigre Lodge is located just outside the village of Tigre adjacent to Corcovado National Park on the Osa Peninsula in southern Costa Rica. This remote ecolodge offers total immersion in tropical rainforest, where animals and birds abound. The lodge owns a 31 acre private nature reserve and affords easy access to trails going into the national park. This area is one of the best places in Costa Rica for seeing and photographing birds, monkeys, frogs, and tropical plants. It's small size and family atmosphere offers an ideal setting for making photographs while enjoying the seclusion of unspoiled rainforest. Meals are served family style in the open air restaurant on the first floor of the main building. Accommodations are in rooms on the second floor of the same building and feature double or twin beds. Baths are shared, one on each floor of the building. Showers are in a separate building a short walk behind the main building.
CERRO LODGE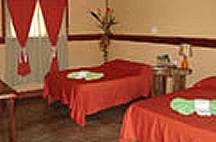 Cerro Lodge is a nice eco-lodge located 10 minutes from Carara National Park. The grounds include gardens and trees that attrace a variety of birds including Scarlet Macaws. The lodge is eco-friendly and caters to birding groups. Meals are served in the lodge restaurant and feature international cuisine. Fresh fruits and vegetatables grown on the property or locally are included in the meals. The lodge has 8 bungalows and 8 standard rooms, all with wi-fi access, double or twin beds, and private bath with hot water showers.
ADDITIONAL INFO
(Not on Menu Above)
BIRDING LOCALES
Bosque del Rio Tigre
Braulio Carillo National Park
Celeste Mountain Lodge
Heliconias Lodge
Sarapiqui
Tarcoles & Orotina