GRAND BIRD PHOTO TOUR
Accommodations During Tour COSTA RICA
PHOTO TOUR
ANY TIME*
Duration:
12 days, 11 nights
Group Size:
2-8
Anytime Price:
$4695
Group Price:
$4295
Single Suppl:
$440
Pace:
Easy
Difficulty:
Easy
* This tour is available for any dates of your choosing provided guide services and accommodations are available.
HOTEL AEROPUERTO
Hotel Aeropuerto is a comfortable hotel located 5 km from the international airport outside San Jose in Alajuela. The acclaimed hotel restaurant offers a wonderful breakfast buffet and a la carte lunches and dinners. Its 24 single and double rooms feature queen-size beds, air conditioning, private bath with hot water tub and shower, cable TV, telephone, and coffee maker.
CERRO LODGE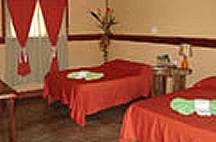 Cerro Lodge is a nice eco-lodge located 10 minutes from Carara National Park. The grounds include gardens and trees that attrace a variety of birds including Scarlet Macaws. The lodge is eco-friendly and caters to birding groups. Meals are served in the lodge restaurant and feature international cuisine. Fresh fruits and vegetatables grown on the property or locally are included in the meals. The lodge has 8 bungalows and 8 standard rooms, all with wi-fi access, double or twin beds, and private bath with hot water showers.
SAVEGRE MOUNTAIN HOTEL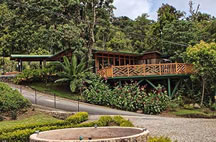 Savegre Mountain Hotel is located in San Gerardo de Dota, a small community at the bottom of a steep-walled mountain valley in the Talamanca Mountains. The private reserve is best place to see Resplendent Quetzal as well as other specialty birds of the highlands. Meals are served buffet style. The food is simply superb, with a large selection of salads from the salad bar, main dishes, and delicious desserts. A bar and lounge with large windows is a comfortable place to relax at the end of the day. All rooms include comfortable double beds, private bath with hot water, and heater. Wi-fi is available in the bar and dining room areas.
SELVA VERDE LODGE
Selva Verde is an exceptional eco-lodge situated on the Sarapiqui River not far from La Selva Field Station. The entrance area, dining area, and accommodations are dispersed around lush tropical gardens and inter-connected through a network of covered walkways. Birding on the lodge grounds can be fruitful. Meals are served buffet-style in a large open dining area overlooking the Sarapiqui River. Alcoholic drinks are available. Rooms are well-maintained and comfortable. They feature single or queen beds and private baths with hot water. Rooms are well shaded by the forest and kept cool with the aid of ceiling fans.
LA QUINTA COUNTRY INN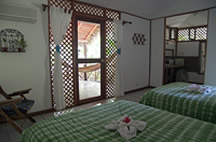 La Quinta Country Inn is a comfortable eco-lodge situated down a side road not far from La Selva Field Station. The 10-acre site is a re-forested agriultural site that now has some secondary forest as well as gardens. A network of easy trails provide access to all parts of the property. The open air restaurant features fresh fruits and vegetables grown on the property, an excellent salad bar, and both international and Costa Rican cuisine. Rooms are in separate bungalows and feature double and twin beds, ceiling fan, air conditioning, and private bath with hot water showers. An outside porch overlooking the gardens provides a place to relax.
ARENAL OBSERVATORY LODGE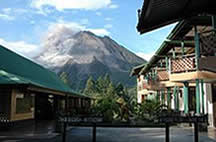 Arenal Observatory Lodge is an upscale eco-lodge situated within Arenal National Park. The lodge gardens, grounds, and private bird sanctuary offer excellent birding on the premises. The terrace and some rooms offer grand views of the Arenal Volcano. The restaurant offers excellent Costa Rican and international cuisine. A full bar offers a nice variety of beers, wines, and mixed drinks. Spa services are available upon request. Standard rooms are very comfortable and feature two double beds, private bath, and a room safe.
HACIENDA SOLIMAR
Hacienda Solimar is a working cattle ranch that caters to birders and bird photographers. It's located near Palo Verde National Park in northwestern Costa Rica. The accommodations are basic but comfortable while the food is excellent.
ADDITIONAL INFO
(Not on Menu Above)
TOUR LOCALES