NORTHERN COLOMBIA BIRDING TOUR
Tour Overview COLOMBIA
BIRDING TOUR
ANY TIME*
Duration:
9 Days, 8 Nights
Group Size:
2-8
Anytime Price:
$3350
Group Price:
$3200
Single Suppl:
$300
Est #Species:
275-325
Pace:
Easy
Difficulty:
Moderate
* This tour is available for any dates of your choosing provided guide services and accommodations are available.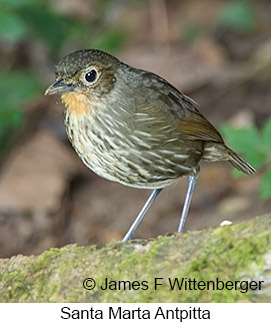 The northern Colombia birding route features numerous endemics of the Santa Marta and Perija Mountain ranges and along the Caribbean coast. The Perija Mountains near the border with Venezuela were unsafe for travel until fairly recently when guerrilla activity ended in Colombia. It's home to several endemics found only there. These are in addition to the numerous endemics found in the Santa Marta Mountains and along the coast.
Our tour begins in Santa Marta. The first day is a transfer toward the middle elevation town of Minca followed by an altitudinal transect leading up to El Dorado Lodge in the Santa Marta Mountains. The first morning at El Dorado is devoted to the higher ridge of Cuchillo de San Lorenzo where several Santa Marta endemics are located. The afternoon is devoted to birding in the El Dorado Reserve and viewing hummingbirds at feeders behind the lodge. After dark some owling should provide good views of the endemic Santa Marta Screech-Owl. Next morning features a visit to Santa Marta National Park where Santa Marta Antpitta has been conditioned to come into the open. There will also be birding along the road through good forest. That afternoon the tour transfers back to Minca for an overnight stay, with some middle elevation birding and viewing of hummingbirds at feeders by the hotel. The tour then proceeds to the lowlands with birding stops along the Bonda Road and in Tayrona National Park before continuing on to Riohacha. Next morning will be spent at a private finca near Camarones, best site to see Vermilion Cardinal and Moustached Brushfinch. Then a nearby site will be searched for the rare Tocuyo Sparrow. The nearby tidal mudflats of Los Flamencos often attracts large numbers of American Flamingos and shorebirds (during migration), and sometimes Scarlet Ibis puts in an appearance as well. The tour then continues on to Valledupar and the highlands of the Perija Mountains near the border with Venezuela where several new endemics can be found in the paramo area of Sabana Rubia. This area is now safe for travel following the peace settlement between FARC and the Colombia government in 2016. The tour ends in Valledupar. Accommodations are generally comfortable except for the lodge at Chamicero de Perija, which is very basic. The lowlands are generally hot during the middle of the day.
ADDITIONAL INFO
(Not on Menu Above)
BIRDING LOCALES