CENTRAL PERU EXTENDED BIRDING TOUR
Tour Overview PERU
BIRDING TOUR
ANY TIME*
Duration:
18 days, 17 nights
Group Size:
2-6
Anytime Price:
$6950
Group Price:
$6550
Single Suppl:
$800
Est #Species:
375-425
Pace:
Moderate
Difficulty:
Moderate
* This tour is available for any dates of your choosing provided guide services and accommodations are available.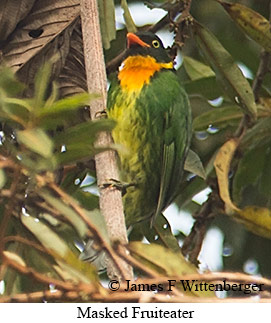 Central Peru is a less traveled birding destination. The area north of Machu Picchu and south of Chimbote covers the scenic Cordillera Blanca and is filled with endemic species not present on other birding routes. A major target species is the rare and extremely localized Golden-backed Mountain Tanager, best seen in the highlands of Bosque Unchoq near the tree line in early morning. Another is the rare Diademed Sandpiper Plover, best seen in the marshes of the highlands of Marcopomacocha region. It's possible to see 75 or more endemic species on this tour. The best time of year for this tour is August-December, with breeding season of the main target species beginning in October when rainfall is higher and they are easier to find.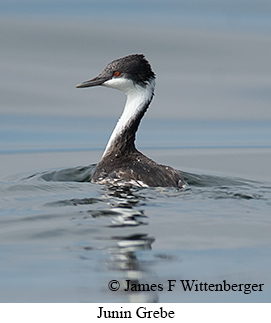 The tour begins with a visit to Lomas de Lachay, an arid hilly region near the coast north of Lima followed by some birding at nearby coastal lagoons. From there a long drive north leads to Huascaran National Park near Yungay. A full day will be spent birding there. Another long drive back south through the Cordillera Blanca leads to Huanuco. Much of two days will be spent birding the Bosque Unchog and Carpish Tunnel area before continuing south to Junin. The key target species at Junin is the Junin Grebe but other endemics can be found there as well. From Junin a transfer to Villa Rica follows, where a morning will be spent birding Bosque Shollet. After transfer to Oxapampa, much of two days will be devoted to birding the area around Ulcumayo Ecolodge. Next stop is Satipo, where birding the road offers an altitudinal transect similar to the better known Manu Road farther south but with different regional specialties. A day will be spent in the Mantaro Valley looking for several birds not yet recognized as new species. We then continue on to an hacienda above the town of La Merced for a two night stay at an hacienda catering to birders. Finally, the tour continues back toward Lima with a morning devoted to the very high elevation Marcapomacocha and nearby Milloq Bog area where specials abound. The road from the highlands of Marcapomacocha descends on the western side through a deep mountain valley toward the town of Santa Eulalia. Birding this road enroute to Lima offers some final specialties before the tour ends in Lima. Accommodations are mostly in moderately priced hotels but two nights will be spent in a very basic community shelter above Satipo and two nights will be spent in a simple but comfortable ecolodge in the highlands above La Merced.
ADDITIONAL INFO
(Not on Menu Above)
BIRDING LOCALES