PERU TAMBOPATA/MANU ROAD TOUR
Tour Accommodations PERU
BIRDING TOUR
ANY TIME*
Duration:
17 days, 16 nights
Group Size:
2-6
Anytime Price:
$5700
Group Price:
$5300
Single Suppl:
$750
Est #Species:
500-550
Pace:
Moderate
Difficulty:
Moderate
* This tour is available for any dates of your choosing provided guide services and accommodations are available.
HOTEL MANHATTAN INN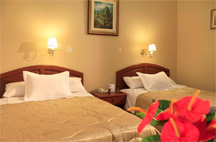 Hotel Manhattan Inn is located 5 minutes fro the Lima international airport in the Callao district and is 15 minutes from city center. The hotel features comfortable single or double rooms, a restaurant/bar, a lounge area, and a patio. It offers free Wifi and cable TV in the rooms. There is a bilingual staff to accommodate international travelers. The Aventura Mall with restaurants, shopping, and other stores is located nearby. The hotel is easily reached by taxi from the airport.
SANDOVAL LAKE LODGE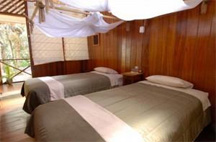 Sandoval Lake Lodge is a luxury eco-lodge located near the palm-fringed Lake Sandoval in southeastern Peru. The lodge is a single structure with a central communal area with dining room, lounge, bar, and hammocks along with 25 fully screened double rooms arranged in two wings. All rooms offer double beds, private bath with hot showers, and ceiling fans. Electricity is provided during early morning, afternoons until 4:00pm, and evenings until 10:30pm. The restaurant features Peruvian dishes and occasionally international cuisine.
EXPLORER'S INN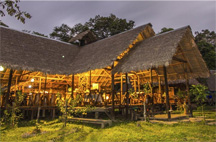 Explorer's Inn is a rustic jungle lodge located on the edge of the Tambopata Reserve of southeastern Peru, 58km up the Tambopata River from Puerto Maldonado. It consists of a central lodge with restaurant and bar along with 30 large, screened in rooms with twin beds. Each room has a private bath with mostly cold-water showers. All lighting is by candlelight except in the dining area where a generator operates until 10pm. There is a nice restaurant, along with a bar that offers notably expensive alcoholic beverages. The restaurant provides plenty of basic food with rice and local dishes being staples. Around the lodge is an extensive network of trails along with nearby oxbow lakes.
COLLPAS LODGE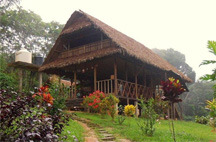 Collpas Tambopata Lodge - is a rustic lodge located 6 hours upriver from Puerto Maldonado in the Tambopata Reserve of southeastern Peru. It features a rustic restaurant and 6 private bedrooms along with 2 large prive dormitories. Rooms are open air on one side and separated by privacy partitions. They feature two double beds. There is a communal bath with cold water showers. The restaurant is also open air and offers basic cuisine served buffet style. The main attraction of the lodge is the nearby Chuncho Macaw Lick, largest macaw lick in the world. There is also a mammal clay lick that sometimes attracts Tapirs.
COCK-OF-THE-ROCK LODGE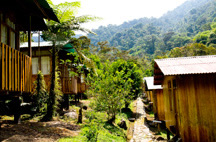 Cock-of-the-Rock Lodge opened in 1997 as one of the first lodges along Manu Road. It's located in the middle elevation San Pedro area within a 12,500 acre private forest reserve. Meals are served within a screened dining area and feature hearty dishes including meats, grains, fresh fruits, and vegetables. Vegetarian and other special dietary requests can be accommodated with advance notice. Rooms are located in private bungalows and feature private bath with hot-water showers, private balconcy, screened windows, and mosquito netting over double or twin beds. There is no electricity in the rooms, so batteries must be charged in the dining room. Power is by generator and is usually on from about 5:30-8:30 PM.
WAYQECHA BIOLOGICAL STATION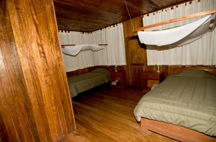 Wayqecha Biological Station is situated at an elevation of about 3000m (nearly 10,000 ft) altitude near the top of Manu Road. It was established as a permanent research station on a 1450 acre tract of protected land in a transitional zone between cloud forest and alpine scrub. A common dining room offers basic cafeteria stlye meals that typically feature beef or chicken. Vegetarian diets can be accommodated when requested in advance. Currentyl, the dining hall is 73 steps downhill from the rooms, but a new dining hall is being built and should open by 2015. Rooms are located two to each cabana, which have recently been rebuilt and now offer more comfortable accommodations with two beds per room and private bath with hot water. They remain unheated. Batteries can be charged in the cabanas from 6:00-9:00PM when the generator is running.
TOUR NOTES
Air fare within Peru is included in the price.
ADDITIONAL INFO
(Not on Menu Above)
BIRDING LOCALES
Lake Sandoval
Penas
Tambopata National Reserve