PERU EXTENDED NORTHERN ROUTE
Tour Overview PERU
BIRDING TOUR
ANY TIME*
Duration:
19 days, 18 nights
Group Size:
2-6
Anytime Price:
$6600
Group Price:
$6300
Single Suppl:
$425
Est #Species:
400-450
Pace:
Moderate
Difficulty:
Moderate
* This tour is available for any dates of your choosing provided guide services and accommodations are available.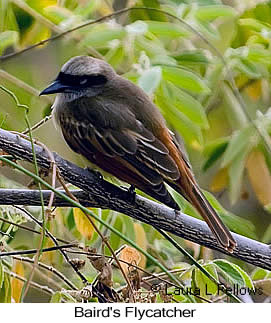 Northern Peru is an increasingly popular birding destination, and for good reason. This region is full of endemics not present farther south or in Ecuador. This itinerary is an extension of our standard tour to the north, adding the incredibly scenic highlands around Leimebamba and the Marañon Canyon. Prime target birds are the poorly known and only recently observable Long-whiskered Owlet, best seen at Fundo Alto Nieva, the extraordinary Marvelous Spatuletail, perhaps the world's most astonishing hummingbird, and the recently split Leymebamba Antpitta and Cajamarca Antpitta.
Our extended tour to the north begins with morning flight to Tarapoto followed by land transfer to Plataforma to look for the endemic Scarlet-banded Barbet and Plataforma Antbird. From there the tour proceeds to Cordillera Escalera north of Tarapoto followed by Waqanki and Aguas Verdes Reserves. After two days there, the next two days are devoted to Abra Patricia, followed by a morning at Huembo Center to look for Marvelous Spatuletail at the feeders and then a transfer to the highlands of Leimebamba. Two days are devoted to birding the highlands there before transferring to Celendin and Rio Chonta Reserve, the latter for the very localized Gray-bellied Comet. The tour continues on to Jaen, best site for many Marañon endemics. After Jaen, birding stops will be made in Porculla Pass and Casupe Road beofre arriving at Chaparri Reserve in extreme northwest Peru. A final stop at Bosque Pomac en route to Chiclayo will seek out some local specialties there before the afternoon flight back to Lima. Participants should be willing to accept some basic accommodations including shared bathroom facilities at Chaparri and quite basic accommodations at Waqanki Lodge.
ADDITIONAL INFO
(Not on Menu Above)
BIRDING LOCALES