LAURA L FELLOWS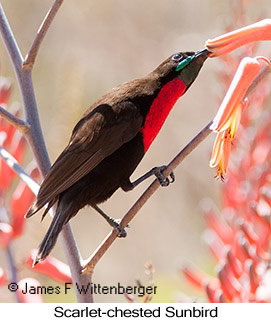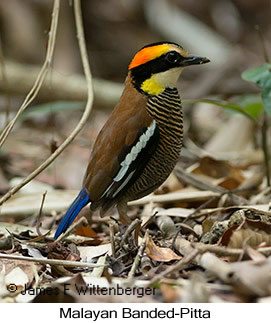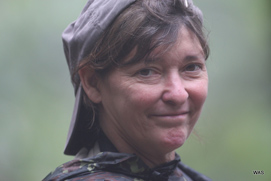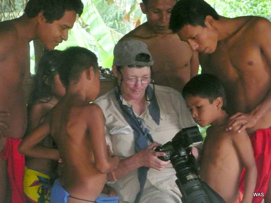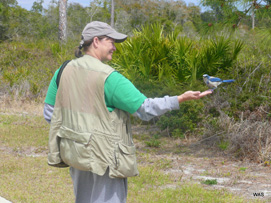 Laura Fellows is co-founder of Exotic Birding LLC with Jim Wittenberger. She started the company as a vehicle for pursuing her life-long love and fascination for birds and nature. Laura's vision as a bird and wildlife photographer is to portray birds and other animals as they live and behave in their natural environments. She published her vision of such "Environmental Portraits" in the December 2007 issue of Nature Photography magazine. Examples of her vision can be seen throughout our website. Laura's photos have been used in biology textbooks, on professional websites, and for the cover of a book of poetry. She has lectured as an invited speaker in the art department at the University of Georgia and at many photo clubs, judged various photography competitions, exhibited her photographs in galleries, and curated 5 photography exhibitions in the USA and Italy. She lived in Italy for 3 years and founded a photography workshop in Cortona in 1997. As tour leader with Exotic Birding she has traveled throughout much of Central and South America as well as East Africa. She speaks fluent Italian and conversational Spanish.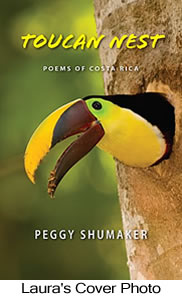 Before embarking on her current venture with Exotic Birding, Laura had 16 years professional experience as a commercial photographer and advertising studio manager for an internationally recognized studio in Atlanta. In that capacity she organized, coordinated and executed major photography assignments for numerous national advertising campaigns on location in the Caribbean, South America, Europe, and many states in the US. Sadly, after many years of declining health, Laura passed away on March 27, 2018. Her life was eventful and extraordinary. A memorial with the story of her life can be found below.
IN MEMORIUM
Laura Lee Fellows, 60, passed on March 27, 2018 in the way she wanted, at home and in the company of her husband and a couple close friends, after a prolonged medical condition that caused her discomfort and chronic pain for many years. She is now at peace and pain-free.
Laura lived an unconventional, active life and touched the hearts of many people. She had a passion for cooking, photography, opera, art, baseball, birds, and nature from a very young age. She was born as an old soul in Sulphur LA March 31, 1957 and grew up there and in Houston TX. She attended the University of Texas, Austin 1975-1976. She then left her roots behind to explore the country, living for a while in Aspen and Estes Park CO and in Palm Springs CA, where she became personal chef of billionaire Robert Oppenheimer for a time. At age 24 she became the first woman chef at a 5-star restaurant in the US when she was hired as an assistant pastry chef in Dallas Texas. She fulfilled her lifelong dream of becoming a photographer when she joined with a world-class photographer, Allen Matthews, in 1983 and managed their studio in Atlanta GA until 1996. She was the first woman manager of a studio ever in the then man's world. She organized and participated in many photo shoots throughout North America as well as in the Bahamas and Colombia for numerous large advertising clients including Coca Cola and the NFL. Her talent as a photographer equaled that of Allen's but was never recognized because she was always overshadowed by him. She was world class in the darkroom and did most of the black-and-white developing and printing for the studio. In 1985 she instigated a two-year photographic odyssey to Italy with Allen, settling in Cortona where she became fluent in Italian and was eventually accepted as a daughter of the town. She learned the language by consorting with old men in the piazza, who told her stories from WWII they never told to their own families. She was accepted as an adoptive daughter into an Italian family in Cortona and still has two surviving Italian "brothers" and an Italian "sister" there along with other friends from the town who loved her.
In 1996 she co-founded the Cortona Center of Photography along with Allen, and as director was instrumental in raising funds, promoting workshops, and attracting world class photographers as instructors. She was also an instructor herself as well as principal organizer of all the workshop activities and producer of several photography exhibitions featuring acclaimed photographers. When her relationship with Allen failed in 1998, she was forced to abandon most of her personal possessions, including her photographs, but was able to take some of her negatives with her.
In 2000 she met the love of her life, her future husband Jim Wittenberger, who held a PhD in zoology with a specialty in bird behavior. In 2005 they married, the happiest day of her life. With him she fulfilled her dream of becoming a bird and wildlife photographer. They formed a birding tour company in 2005, and in that capacity she led many birding tours to Belize, Costa Rica, Panama, Ecuador including the Galapagos Islands, Brazil, and Kenya. She also had an adventurous journey to Guyana and traveled on a photo safari to Tanzania with her husband. Everywhere she went she made friends with lodge owners, waitresses, maids, cooks, doormen, guides, and drivers. She gained a working knowledge of Spanish so she could communicate with those who couldn't speak English. Her many photographs are featured on the company website, www.exoticbirding.com. In 2008 she and her husband were the first North American birding tour company to offer specialty bird photography tours to foreign destinations, quickly emulated by other competing companies in the business.
She returned to Cortona many times to see her Italian family, and she organized several memorable trips throughout Italy and Sicily accompanied by her husband and others. While with her husband Laura lived in Houston TX, Seattle WA, near Salt Lake City UT, Tucson AZ, Longmont CO, and finally St Johns FL. She obtained her real estate license in Seattle for the primary purpose of selling her husband's home there so she could relocate elsewhere and worked for a year as an apprentice appraiser. In 2014 she realized her childhood fantasy of driving on a racetrack when she and her husband participated in a time trials workshop sponsored by Fiat at the Daytona track. In 2015 she contributed greatly to the design and decorating of their dream home in St Johns FL. In January 2017 she returned to Havana Cuba where she had initially been in her mother's womb. In November 2017 she realized her dream of going to the opera at the Met in NYC.
Laura's passing relieved her of the severe pain she lived with for many years that stemmed primarily from a dozen diagnosed ailments with her feet, ankles, and calves. She was ready to move on when her passing occurred and was unafraid, but those who loved her were not ready for her departure from this life. Laura was loved and adored by the many people she touched during her life. She will be sorely missed by everyone whose life was enriched by knowing her, including the many friends she made throughout her life. She was survived by her loving husband, James Wittenberger of St Johns FL, her father Dr Charles Fellows of Lake Charles LA (now deceased), her mother Betty Kingston Kinney of Bradenton FL (now deceased), her sisters Alice Petagna of Tierra Verde FL, Carol Fellows of Sulphur LA, and Diane Legg of Houston TX, several cousins, and many nephews and nieces. She was preceded in death by her oldest sister, Beth Fellows, previously of Covington LA. She wants to be forever remembered by those who were close to her as the warm, sensitive, vibrant, energetic, loving, caring, creative, smart, talented, beautiful woman that she was.