SOUTHERN ARGENTINA BIRDING TOUR
Tour Overview ARGENTINA
BIRDING TOUR
ANY TIME*
Duration:
18 days, 17 nights
Group Size:
2-4
Anytime Price:
$7850
Group Price:
$7200
Single Suppl:
$850
Est #Species:
275-325
Pace:
Moderate
Difficulty:
Moderate
* This tour is available for any dates of your choosing provided guide services and accommodations are available.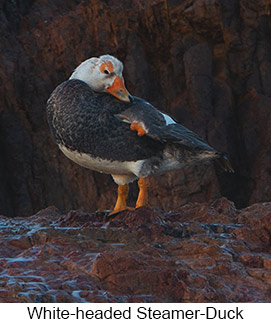 Argentina is located in a temperate latitude of South America and extends all the way to Tierra del Fuego in the far south. Only the extreme north has any subtropical habitat. As a result the number of species on a single tour is lower than tours to the tropics, but this is compensated by the quality of the experience and the number of special birds to be seen in the country. Argentina is a large country that cannot be fully covered in a single birding tour of usual duration. This tour covers the eastern and southern part of the country, including the pampas south of Buenos Aires, Patagonia, and Tierra del Fuego.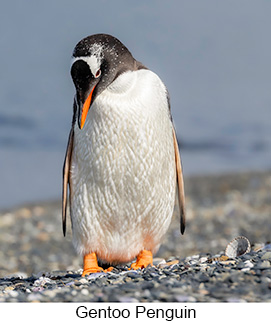 Our southern Argentina tour begins with some birding at Costanera Sur Ecological Reserve along the Rio Plata within the city limits of Buenos Aires. From there we fly south to the Pataonian city of Trelew. We spend the next six days birding that region. Highlights include several birding locales on the Valdes Peninsula outside Puerto Madryn as well as a visit to an Elephant Seal colong there (active from August-March), a visit to the north bay area near Grutas for some special birds best seen there, and a day birding the lower Chubut River Valley. We then return to Buenos Aires as there are no direct flights from Trelew to locales farther south. Once back in Buenos Aires we spend much of three days birding the pampas south of Buenos Aires and around San Clemente de Tuyo. We then fly to the far south to El Calafate for two days birding near Lago Argentina and within Los Glaciares National Park, an incredibly scenic part of Argentina. We then proceed farther south with a flight to Ushuaia on Tierra del Fuego. We'll spend most of four days there, enjoying a boat trip on the calm waters of Beagle Channel to view seabirds of the southern ocean and a visit to the Magellanic and Gentoo Penguin colony on Isla Martillo along with birding the beech forests and lakes of Argentina Tierra del Fuego.
TOUR NOTES
Group price applies for 3-4 persons. Internal flights not included in price, approximately $550-600. Those will be priced and booked by land agent a few months before tour departure date.
ADDITIONAL INFO
(Not on Menu Above)
BIRDING LOCALES