SOUTH THAILAND EXTENDED TOUR
Tour Overview THAILAND
BIRDING TOUR
ANY TIME*
Duration:
18 days, 17 nights
Group Size:
2-6
Anytime Price:
$4675
Group Price:
$4350
Single Suppl:
$425
Est #Species:
425-475
Pace:
Easy
Difficulty:
Easy/Moderate
* This tour is available for any dates of your choosing provided guide services and accommodations are available.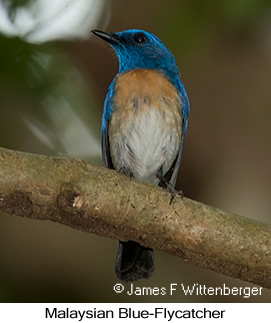 Our South Thailand extended birding tour features many of the best birding sites in western and southern Thailand. It's similar to our South Thailand tour but also includes several sites in the far south. The tour is likely to record about 450 species in 18 days. The best time to take this tour is from March-April. Wintering shorebirds, especially Spoon-billed Sandpiper are present until end of March, while April is excellent for migrants from the south moving through plus broadbills, pittas, woodpeckers, and many other species begin nesting and become easier to see. Notable in the far south are Mangrove Blue Flycatcher at Yaring, Malaysian Blue Flycatcher in the peat swamp reserve, and Malaysian Rail-babbler plus several species of hornbills at Bala. Accommodations include western-style hotels, Thai-style hotels, and two nights of tent camping with meals provided by the park rangers' wives (at Bala). Upgrades are possible in some areas at additional expense. Tent camping at Bala cannot be avoided as there are no nearby hotels.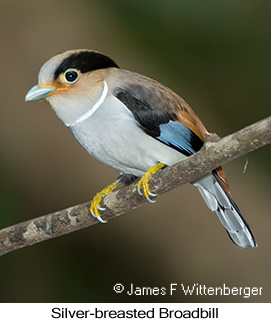 The tour begins with a 2-hour drive to Pak Thale and Laem Pak Bia where wetlands, salt ponds, and coastal beaches and mudflats attract wintering shorebirds, most notably the endangered Spoon-billed Sandpiper. Numerous other wintering shorebirds are present from November-March. From there the tour goes west to Kaeng Krachan National Park where specialties such as the highly localized Yellow-vented Pigeon and Rusty-cheeked Hornbill await. The tour then proceeds south on the Thai peninsula, covering Wat Khao Luk Chang, Chumphon, scenic Khlong Saeng, Sri Phang Nga, Phang Nga, Krung Ching, Khao Nor Chuchi, Yaring Mangroves, Princess Sirindhorn Peatswamp Reserve, and Hala Bala, all featuring their own specialties. The tour concludes with a flight back to Bangkok from Krabi.
TOUR NOTES
Tour price is based on accommodations near birding sites, mainly Thai-style hotels with some camping. Utilizing western-style accommodations can be arranged but will result in a higher price and some changes to itinerary and is not possible near Bala.
ADDITIONAL INFO
(Not on Menu Above)
BIRDING LOCALES
Khlong Saeng Wildlife Sanctuary