MEGA BIRDING SAFARI PLAN A
Tour Overview KENYA
BIRDING TOUR
ANY TIME*
Duration:
17 days, 16 nights
Group Size:
2-6
Anytime Price:
$6850
Group Price:
$6375
Single Suppl:
$900
Est #Species:
550-600
Pace:
Easy/Moderate
Difficulty:
Easy
* This tour is available for any dates of your choosing provided guide services and accommodations are available.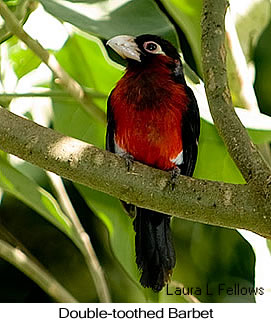 Our Kenya Mega Birding Safari Plan-B offers a great combination of birding throughout central and western Kenya plus game viewing in the major national parks. The itinerary is carefully designed to maximize species count, with over 600 species of birds and some 40 species of mammals likely. The tour covers selected sites on both the eastern and western escarpments of the Rift Valley, the floor of the Rift Valley itself, a remnant rainforest in western Kenya, the area around Lake Victoria, and Masai Mara. The best time to take this tour is during the short rains of November and the following months of December-February when most birds are in breeding plumage. May is also a good time for the tour at the end of the longer spring rainy season. The tour can be taken during dry season from June-October when game viewing is at its peak although at that time of year many birds are in non-breeding plumage. Due to guide availability, it's best to book this tour at least a year in advance, especially for those wanting to travel during November. Accommodations vary from excellent in Nairobi and at Lake Nakuru, to very good at Lake Naivasha, Kakamega, and Masai Mara, to decent in Kitale, to rather basic at Lake Baringo and in Kisumu.
The tour begins with a morning of birding at a wetland outside Nairobi and Gatamaiyu Forest on the eastern escarpment followed by transfer with birding stops across Kinangop Plateau en route to Elsamere Centre near Lake Naivasha. After two days of birding around Lake Naivasha, the tour proceeds to Lake Nakuru, famed for the million flamingos usually lining the shoreline, with some birding en route up the road into the low-lying Aberdare Mountains. After an overnight at Lake Nakuru, the route goes up the western escarpment to the Molo Grassland to seek out Sharpe's Longclaw and Aberdare Cisticola before continuing north to Lake Baringo, the only major freshwater lake in the Rift Valley and home to some 450 bird species. After two days birding the Lake Baringo area, the route continues west through the Kerio Valley where some western forest birds such as Ross's Turaco can be found, arriving in Kitale by late afternoon. Next day is devoted to an excursion down the Kongelai Escarpment, an altitudingal transect featuring several specialties such as White-crested Turaco, followed by an afternoon visit to the small Saiwa Swamp National Park where the rare Sitatunga antelope and a few new birds can be found. From Kitale the tour continues south arriving at Kakamega Forest Reserve that afternoon. Kakamega Forest is Kenya's last remaining rainforest and is home to some 75 bird species found only in western Kenya. Two full days will be spent birding there before proceeding south toward Kisumu and Lake Victoria, with stops en route near the Uganda border to pick up some open country specialties. After a morning birding the shores of Lake Victoria, the tour continues to the Oloololo Escarpment rising above the western plains of Masai Mara. Several birds of dry forest are found on the escarpment, along with a number of mammals such as Plains Zebra, Topi, and gazelles. Two days will be spent birding and game viewing on the plains of Masai Mara with a good chance of finding Cheetah and possibly Leopard as well as Lion and many other mammals of the open plains before returning to Nairobi.
ADDITIONAL INFO
(Not on Menu Above)
BIRDING LOCALES