HOTSPOTS BIRDING SAFARI
Tour Accommodations KENYA
BIRDING TOUR
ANY TIME*
Duration:
15 days, 14 nights
Group Size:
2-6
Anytime Price:
$7700
Group Price:
$7100
Single Suppl:
$900
Est #Species:
475-525
Pace:
Easy/Moderate
Difficulty:
Easy
* This tour is available for any dates of your choosing provided guide services and accommodations are available.
SERENA MOUNTAIN LODGE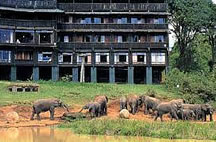 Serena Mountain Lodge is built of forest timbers on the slopes of Mt Kenya. An open-air viewing deck looks down on a waterhole where game animals come in to drink day and night. There is also a tunnel leading to a photo hide near the waterhole. The central dining room is raised to canopy level in the forest offering views of canopy birds. Meals feature both local and international cuisine. Soft drinks, fruit juices, beer, wine, and spirits are available from the bar. Standard rooms feature twin beds, private bath with hot water showers, and private balcony overlooking the waterhole. Complimentary bottle water is provided in the rooms.
ASHNIL SAMBURU CAMP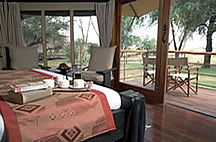 Ashnil Samburu Camp - is situated in Buffalo Springs Reserve adjacent to Samburu National Reserve. The restaurant overlooks the the Ewaso Nyiro River, which forms the border between the two reserves. Meals are served buffet style and feature mainly oriental and international cuisine with a tast of African traditional dishes. The lounge in the main building features a variety of liquers, cocktails, wines, spirits, beers, and soft drinks. Laundry service is available. Electricity is from a generator and is 220/240 voltage, as is true throughout Kenya. The camp has 24 en-suite permanent tents with king beds, queen beds, and twin beds available. Every tent consits of a dressing area, sitting area, luggage rack, and private bath with hot water showers.
LAKE NAKURU LODGE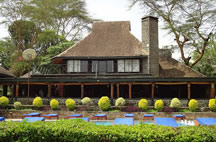 Lake Nakuru Lodge is one of the few accommodations available within Lake Nakuru National Park. It's a luxurious lodge built on a hillock sloping away to Lake Nakuru, offering unimpeded views of the far-away lake. A water hole outside the dining room attracts a number of mammals for easy viewing. The hotel features a full restaurant and bar as well as swimming pool and recreation room. The food is quite good and can be served in the restaurant or outdoors. Accommodations feature twin or queen beds with mosquito netting and private bath with hot water showers.
SOI SAFARI LODGE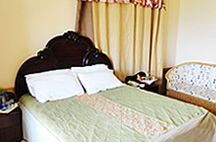 SOI Safari Lodge is a comfortable hotel near the shores of Lake Baringo. It's a short drive to the birding areas including the Laikipia Escarpment and the boat launch on the lake. The lodge offers full bar and restaurant services as well as a lounge for relaxation. Rooms are very comfortable and feature double beds and private bath with hot water showers.
RONDO RETREAT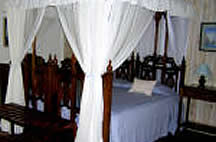 Rondo Retreat is a Christian retreat for nature lovers. It is a homestead with a main building and 5 cottages located close to the Kakamega Forest. There are 15 double rooms in the cottages plus 3 more rooms in the main house. Hearty English breakfasts, lunch, and dinner are served in the dining room of the main house. Rooms are comfortably appointed and feature double beds with mosquito netting and private bath with hot water showers. No two rooms are the same, each being uniquely decorated and furnished.
VICTORIA COMFORT INN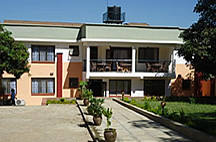 Victoria Comfort Inn is located just off the Kakamega Road in a quiet upscale neighborhood just 5 minutes from Kisumu city center. The terrace restaurant features international cuisine. Specialties include baked, grilled, or deep fried Tilapia, T-bone steak, lamb curry, and roast chicken. Full breakfast with eggs and bacon are available. The lounge bar offers wine, beer, and spirits as well as soft drinks. The inn offers 12 modern rooms with private bath, statellite TV, work desks, and air conditioning.
ELSAMERE CENTRE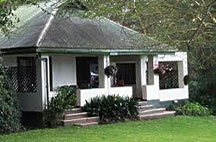 Elsamere Centre is the former home of George and Joy Adamson. It is now a field study center and conservation trust. The centre provides accommodation for 15-18 persons in private cottages set in the gardens around the main house. Each cottage has a veranda and faces Lake Naivasha. Rooms are bright and attractive with comfortable beds and private bath. Breakfast and lunch are buffet style in the main house. Dinner is hosted every night and allows guests to meet and interact. There is a small museum in the main house where artifacts from the Adamsons's lives can be viewed. Black-and-white Colobus monkeys are always present, as are many birds on the grounds.
ADDITIONAL INFO
(Not on Menu Above)
BIRDING LOCALES