ETHIOPIA GRAND BIRDING & WILDLIFE TOUR
Tour Overview ETHIOPIA
BIRDING TOUR
ANY TIME*
Duration:
20 days, 19 nights
Group Size:
2-8
Anytime Price:
$5590
Group Price:
$4950
Single Suppl:
$450
Est #Species:
500-540
Pace:
Easy
Difficulty:
Easy
* This tour is available for any dates of your choosing provided guide services and accommodations are available.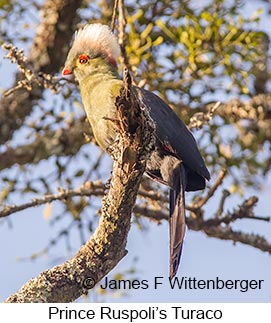 Ethiopia is a land of contrasts, featuring scenic mountain escarpments, highland plateaus and forests, arid scrub and lakes of the Rift Valley, and rich forests in the south. Though it receives less notice than Kenya or Tanzania, Ethiopia is certainly a core birding destination not to be missed by anyone with an interest in African birds and wildlife. Our 20-day tour covers all the major birding sites and should result in a trip list of over 500 species, including nearly all endemic and near-endemic birds, along with viewings of a variety of specialty mammals including Ethiopian Wolf, Mountain Nyala, and Gelada and Hamadryas Baboons. The best months to visit are October-December but most months other than September are very good for birding.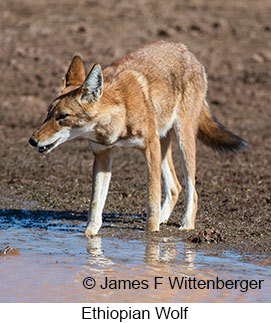 The tour begins in Addis Ababa. The first birding sites are the scenic highlands and valleys north of Addis Ababa near the city of Debre Birhan where numerous endemics can be found. It then continues east into the Rift Valley where several arid sites including Aledeghi Wildlife Reserve and Awash National Park. After completing this loop, the tour proceeds west with stops at several Rift Valley Lakes that present a variety of birding opportunities. The next stop is spectacular Bale Mountains National Park, featuring a nice variety of endemic birds along with the endangered endemic Ethiopian Wolf, best seen along Africa's highest all-weather road that crosses the Sanetti Plateau. From there it proceeds south and east into some arid country in the far south around the town of Negele followed by several important birding sites near the town of Yabelo. From there the route backtracks back north to Lake Awassa followed by a visits to Senkele Wildlife Sanctuary and Gibe Sheleko National Park before returning to Addis Ababa for overnight flights home.
ADDITIONAL INFO
(Not on Menu Above)
BIRDING LOCALES
Abidjiata Shalla National Park
Aledeghi Wildlife Reserve
Ankober-Debre Sina Escarpment & Gemessa Gedel
Awash National Park
Bale Mountain National Park
Debre Libanos & Ethno-German Lodge
Gibe Valley National Park
Harenna Forest
Jemma Valley
Kesem River
Lake Awassa & Awassa Town
Lake Ligano
Lakes Hora, Chelekleka, and Bishoftu
Liben Plain and Negele
Mega-Soda Area
Melka Jebdu
Sululta Plains
Wondo Genet
Yabello Area
Ziway and Koka Lakes